Advanced Analytics
Use your data to put the future into perspective
What is Advanced Analytics?
Advanced Analytics is a special discipline that uses algorithms to calculate the likelihood of "something happening" and thereby helps you to stay ahead of developments in your business.
We can not predict the future, but…
Advanced Analytics, Data Mining, and Machine Learning are all disciplines and technologies that are increasingly requested by companies as part of their Business Analytics solution. When we have enough data extending over a sufficiently long period, we can employ statistical algorithms to find the explanatory potential of our data, and with that at our disposal, we can start to look at data in a forward-looking perspective.
We cannot foresee the future, but we can predict different outcomes with a certain level of probability, and if the level of probability is high enough it makes sense to engage in efforts to prevent something that we do not want to happen, for example that a customer may leave us or pre-empt something by repairing a machine before it is expected to fail.

It is important to us, as a customer, that you quickly achieve value from your Advanced Analytics initiatives. We have, therefore, developed twoday kapacity Churn & Retention Framework, which is an Advanced Analytics framework. Easy and convenient: We have developed the foundation so that you can provide your data, and together we can find out who your most valuable customers are and who is likely to leave you.

At twoday kapacity, we primarily focus on Customer Analytics and the Internet of Things-oriented maintenance analyses. You can learn more about these specific areas below, and find inspiration for how it can help you.
twoday kapacity Customer Churn & Retention Framework
Advanced Customer Analytics is easy with twoday kapacity Customer Churn & Retention Framework
Satisfied customers are the foundation of most companies. They generate a steady stream of earnings and are more open to additional sales. Studies have repeatedly shown that it is significantly more expensive to acquire a new customer than to retain an existing one.
With churn prediction, you have the opportunity to spot customers who are at high risk of leaving the business. Specifically, a churn model can predict the probability of a customer churn within a specific period of time. Coupled with a customer lifetime value calculation, you can also see which customers are most valuable to the business.
With twoday kapacity's Churn & Retention Framework, we do not just spot churn – we act on that basis. With our retention actions, you get a powerful tool that allows you to retain the right customers.

Based on insights from the machine learning model, business hypotheses, domain experts and customer valuation via CLV, actions are designed that will be taken into use by the business.

These actions are measured and tested in a continuous feedback flow, which continuously improves the model, insights, actions and the business.
Advanced Customer Analytics
What your data actually says about your customer relationship and how you can utilize that knowledge to strengthen your business.
The customer journey
IIn a world where "disruption" is the new black and the boundaries between the established industries are being erased by new players, one thing remains certain: The customer is key, and understanding how each customer wishes to be treated is essential for a company's survival. Providing a customer with the service that is appropriate for their particular context achieves loyalty, and loyalty is the best defense against new competitors and provides a good foundation for future growth.

As a business, the benefit of having an increased understanding of your customers' behavior is that your resources can be prioritized better. What value would it have for you to know whether your customer uses all or only 10% of their budget on you, whether your customer is growing or contracting, and which parameters are most important for you to be able to measure in order to achieve your strategic goals?

Data is the basis for optimizing your relationships with your customers and the explanatory potential can be found in a range of places: In orders and payment patterns in Invoicing Systems, and at all the points where your customers interact with you in the form of direct communication to a call center or by e-mail, reactions to marketing promotions, and in more indirect communication in the form of visitor patterns to a website.

Advanced Analytics uses methods and statistical algorithms to calculate the likelihood of future outcomes. These probabilities can then be used to initiate activities so that each customer is handled in the best possible manner and the company can apply its resources where they achieve optimal results.
Ask your data a question
IIn our experience, it is important that, as an enterprise, you identify precisely where the increased customer insight will provide the greatest value. The principle that "if you start small, success will follow" applies particularly to Advanced Analytics projects.

We have, therefore, drawn up some classic questions that can help you assess exactly where your Advanced Analytics journey should start. The questions raised are based primarily on data that the majority of enterprises already collect, which makes it easier to get started. Later, data can be enriched with multiple external and internal data sources when the time comes for the explanation models to be expanded and made even more precise.

In Advanced Analytics, we use statistical techniques that many businesses do not usually have access to, but with the right approach, everyone can achieve an insight into exciting data contexts and, without making major investments, to test how these insights can affect their business.
Solution: Target Marketing
Effect: Choose the right marketing for the right audience.
Solution: Next Best Action
Effect: Additional sales, cross-selling, up-selling. Via relevant suggestions and offers.
Solution: Segmentation
Effect: Understand and interpret customer segments (e.g. purchasing behavior and demographic variables) and plan your activities accordingly.
Solution: Customer Lifetime Value
Effect: Organize your efforts according to the most valuable customers and establish the prerequisites for the optimal customer journey, while also understanding the sales potential for each customer.
Solution: Social Media Semantics
Effect: Obtain an unfiltered insight into what your customers say about your business and respond in a timely manner.
Solution: Customer retention.

Effect: With detailed knowledge of your customers, the right efforts can increase the proportion of customers you retain.
Solution: Demand Forecast
Effect: Correct and timely deliveries and reduced working capital, including in relation to seasonal fluctuations and other outside influences.
Get off to a good start
In order for an Advanced Analytics project to be successful, concrete and useful results are a prerequisite. It is also important to plan the entire process, from data collection to how the results will be used in the company's operations in order to achieve the greatest possible benefit.

Our experience is that the best way to work with Advanced Analytics is to divide the process into smaller components. This ensures that we can always validate the results in the context of your knowledge about your business and thereby ensure an understanding of how the end-result is achieved.
It is important to keep in mind that Advanced Analytics is an iterative process, where the results can always be optimized. It is your understanding of your customer data which ensures that we add the relevant data in order to increase the explanatory potential of the analyses.
How do I get started?
Define a business question


Identify the data landscape


Build the first models


Operationalize the result
We can help you with each step of the journey in a POC process over 5-20 days, depending on the requirements and level of complexity.
If, later on, you wish to proceed from the POC to the full use of Advanced Customer Analytics, our Customer Churn & Retention framework can help you make the results ready for production and import them back into the organization, where they can make a difference.
Do you want to get started? So do we
Do as a large number of the country's most ambitious companies:
Fill out the form or get in touch with Søren – then we can have a chat about your challenges and dreams.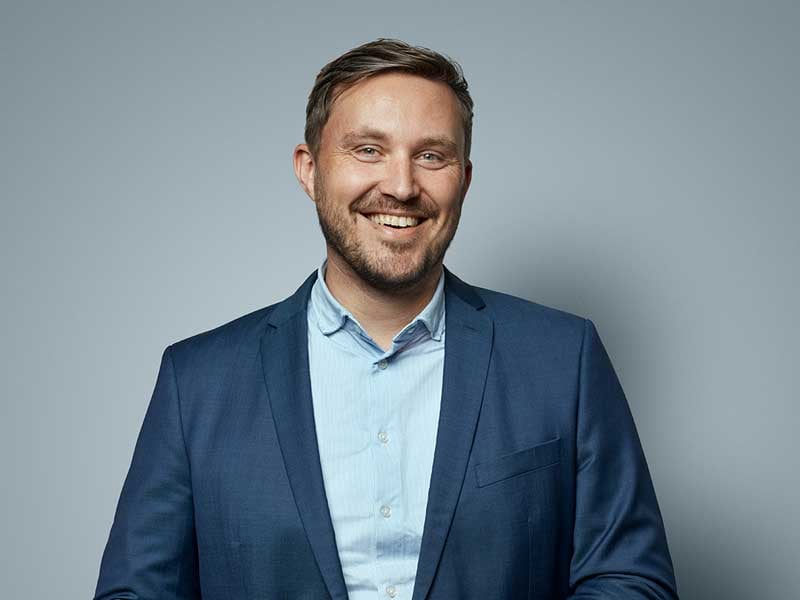 Søren Toft Joensen
Partner & CCO
stj@kapacity.dk
26 30 90 01